COVID-19 / Coronavirus Update
The City of Tempe has declared a State of Emergency.
https://www.tempe.gov/Home/Components/News/News/14136/31
<![if !vml]>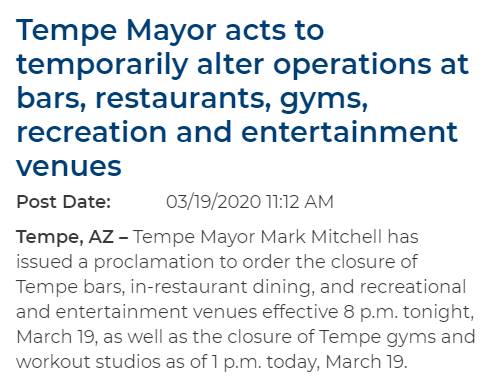 <![endif]>
*********************
Tempe Fire & Rescue is urging Tempe residents to STAY AT HOME
if at all possible.
T<![if !vml]>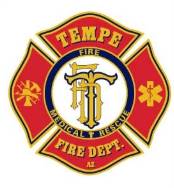 <![endif]> <![if !vml]>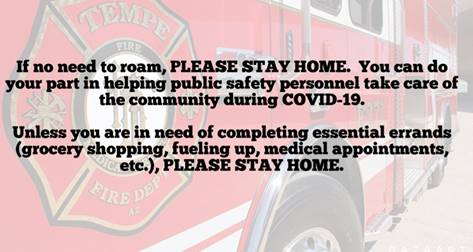 <![endif]>
*********************
WHAT IS THE CORONAVIRUS (COVID-19)
The Coronavirus Disease 2019, or COVID-19, is a new respiratory virus first identified in Wuhan, Hubei Province, China. It is part of a larger family of viruses called coronavirus, some of which are in circulation normally and can cause illnesses like the common cold. For people at high risk, the disease can be fatal.
LIMIT YOUR RISK
We urge all residents to take precautions to limit their personal exposure to coronavirus. It is important to stay calm and informed, while taking precautions to prevent the spread of infection:
Wash your hands thoroughly or use an alcohol-based (at least 60 percent alcohol) hand sanitizer often. If you cannot find hand sanitizer, there are easy recipes online.

Do not touch your hands to your face, nose or eyes with unwashed hands.

Try to distance yourself from other individuals; consider not shaking hands with people

Wipe off hard surfaces at work and home with bleach wipes, alcohol wipes or other commercially available household cleaning solutions suitable for killing germs.

Cover coughs and sneezes with tissues or in the elbow.

Get a flu shot if you missed one earlier in the season. Many locations and doctors are still offering the flu vaccine.
If you are sick, do not go to public spaces. Follow your doctor's guidance and adhere to CDC directions.
https://www.maricopa.gov/5460/Coronavirus-Disease-2019
https://azdhs.gov/preparedness/epidemiology-disease-control/infectious-disease-epidemiology/index.php#novel-coronavirus-home
https://www.cdc.gov/coronavirus/2019-ncov/index.html
*********************